Working with us
The GRHANITE™ HIU has standard mechanisms for engaging with organisations and researchers wishing to use GRHANITE™.
If you are in the course of developing a research proposal, it is advisable to contact the HIU to discuss the project BEFORE your application is sent to the funding body for consideration. This helps clarify technical aspects of the study design and ensures the budget is properly estimated.
As an academic unit, the HIU are commonly interested in being co-investigators or associate investigators on such projects. As co-investigators, we can bring additional expertise to the table.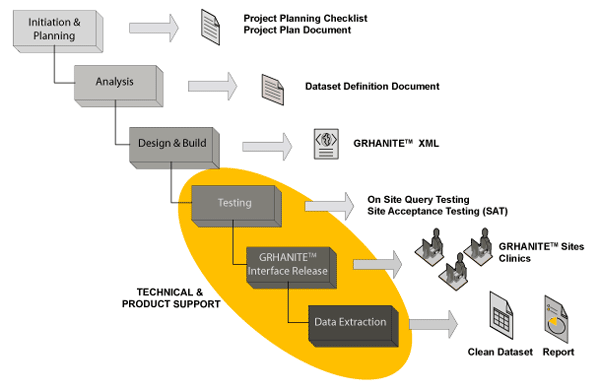 GRHANITE™ Implementation Methodology
Key aspects of GRHANITE™ implementations
ORGANISATIONAL CONSENT:
We always ensure (via Project Clients) that consent for GRHANITE™ installations from the participating sites/clinics is in place before proceeding with installations.
Back to top
---
PATIENT / PARTICIPANT CONSENT:
GRHANITE™ has sophisticated mechanisms for managing individual consent. This includes opt-in and opt-out consent mechanisms. The best possible consent should always be sought but in some cases consent is not possible or not practical. As a result of the privacy-protecting nature and features of GRHANITE™ most projects are categorised as negligible or low risk. Such projects may be eligible for consideration for a waiver of consent in-line with the Australian National Statement on Ethical Conduct in Human Research (Section 2.3).
Back to top
---
PROJECT ETHICS APPROVAL:
Evidence of 'Project Ethics Application Approval' is an essential step in most cases for us to execute GRHANITE™ implementations. The data approved by ethics for use in a project is carefully compared with the goals of the researcher / organisation. Where ethics approval is required we will not proceed with data extraction until ethics has been approved and we manage the data extract process to ensure this is not circumvented.
Back to top
---
GRHANITE™ IN A CLINIC OR GENERAL PRACTICE:
GRHANITE™ is almost always installed on a normal users computer and runs in the background. GRHANITE™ is almost never installed on a server and instead will communicate with a server if this is required. GRHANITE™ needs installed only once - if a clinic or practice is involved in multiple projects, these will all run from one instance of GRHANITE™ and the data will be routed to the appropriate research organisation for each project. The GRHANITE™ software communicates with the GRHANITE™ coordinating web server so that there is no change required to incoming firewall rules. GRHANITE™ can run on stand-alone computers with no network connection (data being manually forwarded) in situations where security needs to be absolute.
Back to top
---
GRHANITE™ TECHNICAL SUPPORT TRAINING:
Normally end-user technical support and site installation is delivered by the client organisation. These individuals are the first point of contact for GRHANITE™ sites for troubleshooting. It includes coordination with the Project Sites/Clinics before, during and after GRHANITE™ installation. We therefore consider "GRHANITE™ Technical Support Training" to be an essential ingredient of GRHANITE™ implementation projects. The training is provided to the Project Client (IT-Team) in the following areas:
installation and upgrading of GRHANITE™ Client
monitoring of the health of client sites using the GRHANITE™ Heartbeat Website
managing clinical data as it arrives at the GRHANITE™ Databank
Back to top
---
GRHANITE™ PRODUCT SUPPORT:
GRHANITE™ Product Support is provided by our dedicated staff at the GRHANITE™ Health Informatics Unit. Key features of GRHANITE™ Product Support include:
Resolution of GRHANITE™ and related technical issues escalated by GRHANITE™ Technical Support
Periodic updates to GRHANITE™ software and release to Project Sites
XML (study protocol) definition updates during the Project
Back to top
---
DATA IN TRANSIT:
Although the GRHANITE™ infrastructure is used to deliver data to researchers it is impossible for the HIU (or anyone else) to decrypt any data in transit. The only location on Earth able to decrypt project data is the ultimate, designated GRHANITE™ data repository (Databank). GRHANITE™ uses multiple encryption techniques including industry standard public/private key mechanisms to protect the data. These are many of the same algorithms that protect data in the international banking sector.
Back to top
---
GRHANITE™ DATABANKS:
The more data items you bring into a data repository, the higher the risk of inferring an individual's identity. For this reason, GRHANITE™ directs data where it is needed, when it is needed. Even if a research organisation runs multiple research projects, GRHANITE™ will route data for these projects to separate databases.
Back to top
---
INCIDENT REPORTING PROCEDURE:
The GRHANITE™ HIU has an approved Incident Reporting Procedure for reporting on incidents of breach of Personally Identified Information (PII)/sensitive project data during the course of GRHANITE™ projects. We recommend all project partners conform to this procedure. GRHANITE™ Databanks have built-in mechanisms for ensuring full audit trails are kept should such an incident occur.
Back to top
---